I haven't been consistent on SHS. I miss the posts and the challenges. Been on the road a lot in the fall. I am so thankful to be home for awhile. It's been great catching up with friends and just having a routine at home. I love the holidays.
Here are my items for this week's SHS:
1. Less Is More
Less calorie, more healthy (healthier). Home-made chicken noodle soup and garlic herb cheese biscuit.
2. Holiday Lights
Played around with aperture and shutter speed [f18|10 seconds] using wide angle lens.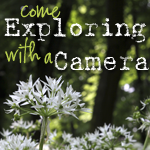 3. Ornaments
One of my favorite Christmas carols.
4. Cup of Cheer
Hot cocoa! Yay!
5. Nativity